When you think of MSI laptops, you probably picture the company's powerful gaming laptops.
The PS42 stands out from the MSI's product lines with its elegant silver aesthetics.
This eye-catching new laptop comes with the incredibly slim skeleton, mere 1.19 kg in weight and 15.9mm in height, while the thin bezel along the display plays an important role in achieving such portable form factor.
While being extremely thin, the PS42 still manages to pack much within: fingerprint sensor for security, NVIDIA® GeForce® discrete graphics, and up to 8th Gen. Intel® Core™ i7 processor.
Performance in an unprecedented chassis, the MSI PS42 presents both simplicity and elegance.
Aside of those features, I believe most of the business users would care more about the battery.
We've all been there. You're in a meeting, or on the road, or in an office, and you find, to your horror, that your laptop is almost fully drained.
Equipped with a reasonably sized internal battery, the Prestige PS42 boasts up to 10 hours of battery life in a productivity workload.
We will test the battery life with 3 kinds of measurement methods to show its longevity.
Before we begin testing every laptop, we will update the system with the latest patches, firmware updates, and drivers.
1. MobileMark 2014 Standard test
The measurement condition:
A. "Dragon center shift mode must change to ""Power options""
B. Power plan: BAPCo Power Scheme
C. Brightness: at least 150cd/m2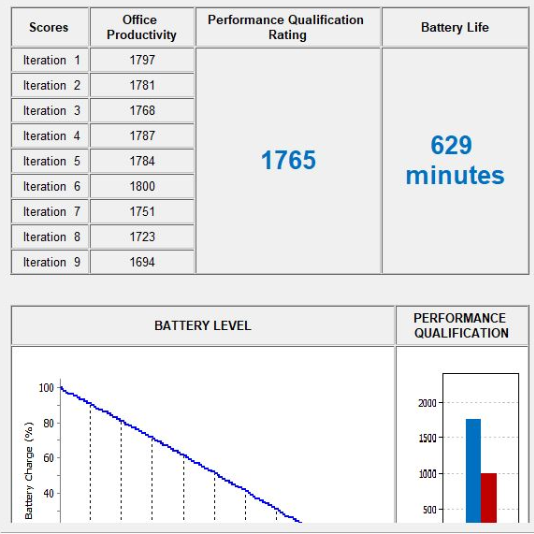 The result is pretty good and up to 10hours 29minutes.
2. JEITA battery run time measurement method V2.0
The measurement condition:
A. Sound volume: The lowest (mute is also permitted)
B. Screen brightness: 150cd/m2 or more
C. Wireless LAN: It is the state in which the device is connected to an access point.
D. Other wireless communication functions (Bluetooth, 3G, etc.): Can be turned off.
E. Video replay software: If video replay software is installed on the device, use that installed software.
Otherwise, use the software that can be downloaded or purchased by the user.
F. Display size of the replay screen: Full screen
Complete instruction:
https://goo.gl/tvuVYy


The result of the media test is 10 hours 9 minutes and the idle test is 11 hours 44 minutes. The average result is up to 10 hours 57minutes.
3.PCMark 8 Battery life Test
The measurement condition:
A. Screen brightness set to 50%
B. System volume set to 50%
C. No Bluetooth active but Wi-Fi
D. Set the Power option to Balance
PCMark 8 simulates day-to-day use until the battery runs close to dry.
Once it's through, PCMark 8 provides an estimate of the battery's total capacity in hours and minutes based on how quickly power drained during the test.
Indeed, our test returned results of 5 hours and 39 minutes for the PCMark 8 battery life test.
This result may not seem ground-breaking, but it's really much better than the test result of Lenovo Yoga 920's 4 hours and 1 minute.
(
https://www.techradar.com/reviews/lenovo-yoga-920-review/2
)
Especially when the Yoga 920 claims the battery life is up to 15.5Hr based on testing with MobileMark 2014
(
https://www.lenovo.com/us/en/laptops/yoga/yoga-900-series/Yoga-920-13/p/88YG9000859
)
Even though it varies significantly with settings, usage, & other factors, the battery life of PS42 is long enough to power through a cross-country flight or a day full of meetings or lectures.
It's definitely a good deal to own a PS42 whether for work or for entertainment.
MSI PS42 accompanies your non-stop lifestyle.